Queens Park Tennis Club Coaches
Mel Bowden can offer coaching to players of all standards.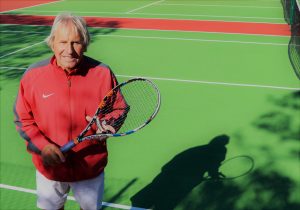 Mel Bowden
LTA Registered and Fully Licensed Coach
(Includes Police DBS Check)
Phone:
07850 717352
Email:
coaching@qpltc.co.uk
As well as forming Badgers with Tony Clark in 1998, he has 30 years experience as a professional coach, supplying coaching throughout the sussex schools, including 9 years as coach at Withdean Tennis Centre.
Mel gained his first LTA qualification at Chelsea College and moved on to attend a residential course at Bisham Abbey (The then LTA training HQ) taking his practical at Queens Club which he describes as 'pressure' with four examiners marking the lessons!
Since then he has attended numerous refresher courses around the Country one of which he recalls playing wheelchair tennis against the Olympic Champion Peter Norfolk which was a real challenge. The outcome is not reported !! He regularly worked at Vilamoura Tennis Club in Portugal, so much so that he a ended up building his own house in the Country.
Join Mel for Rusty Racquets every Saturday 11am-12.30pm. £10, drop in.
Click here for Adult Coaching Programme
Adults Coaching Enquiries Contact Mel
Phone: 07850 717352
Email: coaching@qpltc.co.uk
 Juniors Coaching
Andy Mullins and Alistair Quarton will now lead the Junior coaching every Saturday morning
Click here for Junior Coaching Programme
Junior Coaching Enquiries Contact Andy Or Alistair
Phone:07857 513028
Email: coaching@qpltc.co.uk
——————————————————-