Queens Park Tennis Club Membership
Please join us at Queens Park Tennis Club – new members are always welcome! The first step is to contact our membership secretary. [see details below]. Full costs and benefits of membership are listed here.
ANNUAL MEMBERSHIP 2018
(M1) Adults membership – £85
(M2) Full Junior Membership – £35
(M3) Full Student Membership – £45
(M4) Junior Membership (Under 12) available to members children only Free
(M5) Social Membership –  £1 – allows use of Clubhouse and facilities
(P1) Adult Pay and Play £7.90
(P2) Junior Pay and Play £3.95
Family Membership Examples
2 Parents @ £85 (£170) 1 Junior @ £35 (£35)  1 Under 12 Child (Free) = £205.00
1 Parent   @ £85 (£85)   2 Juniors @ 35 (£70                                          = £155.00
The Benefits of Memberships
Full adult membership of £85 a year entitles members to book courts for free (2hrs per day), using our online booking system. Click on Court Bookings for further details. If you download the ClubSpark phone app, you can book courts using your mobile phone.
Members get priority booking, which means they can book their courts online seven days in advance (compared to four days for non-members).
Children of 12 or under can join for free if their parent/carers are members.
Full Members are invited to join club sessions, free of charge, three times a week: Mondays 18:00, Fridays 18:00 and Sundays 14:00.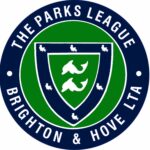 On Tuesday, Wednesday and Thursday, from April to August, the courts are used for Parks League matches from 18.00. These are against other clubs in the Brighton And Hove Parks League. Queens Park enters five teams in the Parks League, each comprising a men's pair, a ladies pair and two mixed pairs.
New balls are provided for matches and used balls for club sessions. Once you are a member, you won't be asked to pay any additional match or ball fees.
Throughout the year we have American Tournaments and a club tournament with finals day towards the end of the season as well as other cup tournaments and social events. Coaching, subsidised by the club, is also available.
How To Join The Club
Please contact our membership secretary Pauline (see details below). Or, you are welcome to drop by one of our club sessions which are held on Monday and Friday evenings from 18:00 during the season and on Sunday afternoons from 14:00 throughout the year. These sessions are for practice and for fun, and for you to meet and play against other players of all levels. We only require that you are of a standard where you can serve and maintain a rally. If you wish to join, Pauline will ask you to fill out a membership application form:

Download a 2018 QPTC membership form here
For membership enquiries:
Pauline O'Reilly, Membership Secretary
Telephone: 01273 607602
Mobile: 07743 291427
Email: pauline.oreilly@qpltc.co.uk